She is clothed with strength and dignity; she can laugh at the days to come.

The Women's Ministry of Covenant Glen seeks to
empower women in our local and global communities
through word study , worship, and community
outreach. Covenant Glen gives you the opportunity to work with
The United Methodist Women and WINGS ministry. You will find a sisterhood of women
ready to embrace you in your faith walk.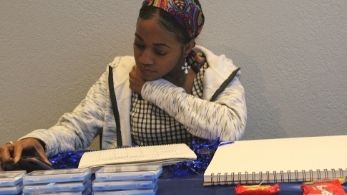 Service | Study | OUTreach
Covenant Glen United Methodist Women
The United Methodist Women is the only official organization for women within the United Methodist Church. Founded in 1869, it is "the largest denominational faith organization for women with approximately 800,000 members". The UMW offers all Methodist women opportunities for spiritual growth, leadership development, transformative education and service and advocacy. Its current advocacy priorities are climate justice, economic inequality, maternal and child health, and ending criminalization of communities of color and mass incarceration. Join the month at group meetings on the second Thursday of the month.
WINGS: Women In God's Service
WINGS meets every second Sunday at noon, engaging women in bible studies that answer questions for today's women of faith. The group works to help to incorporate faith in every aspect of their lives. The group celebrates women in faith with the fall TAKE FLIGHT in Faith retreat. Join WINGS for quarterly fun events.
Get Connected. Go Deeper.
Quarterly, the WINGS ministry presents a special series Bible Study focused on women. Topics for 2021 include: Parenting by Faith | Wisdom Choice | I AM HAPPY | Loving the Me God Made
Support the 2021 Mother Daughter Tea
Delight in the fun and trendy fashions at the annual UMW Mother-Daughter Tea. This year the event is virtual but still loaded with tons of fun and runway fashion. You can invite friends and family to join you for the tea. Once you are registered, pick up your activity bag on Sunday, July 11th or 18th at FUMC - Missouri City | 3900 Lexington Blvd
from 9am to 10am. Funds support UMW Outreach projects.
The Mother Daughter Tea
July 24th
2:00pm to 4:00pm
ZOOM EVENT
$10.00 registration
https://www.jotform.com/211335837131146
We'd love to hear from you. Fill out the form below to get started.